Surpri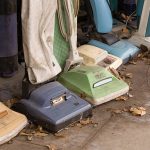 sing as it may be, vintage vacuums have grown in appeal for antique collectors. This retro appliance is not only a display item but popular because of its history.
The History
An American inventor named James Spangler created an electric appliance that was a broomstick with a cloth, a long handle, and a bag. He was an asthmatic janitor, so his invention was probably developed out of necessity. In 1908, he sold his design to a Brit named William Hoover. His early vacuum idea was one of the best practical inventions of its time. Hoover's company's leather factory in England began mass-producing modern-looking vacuums by 1930. Although his vacuum was a practical way of cleaning, not many people owned one because of the high cost to produce and sell it. Many years later the electric vacuum would be used in most households.
Vintage Vacuum Collectibles
Since its origin, the vacuum has undergone many transformations, from dustpans to rovers, spanning over 150 years. Here are the top vintage vacuum collectibles:
Electrolux
This Swedish company has been producing vacuums for decades, and the 1950's model is a top collectible. In the 1960s, the company's marketing campaign slogan was, "Nothing sucks like an Electrolux." Many marketing experts thought it would be a disaster, however, the campaign did grab the attention of consumers.
My Little Queen series by Bissell
Another popular collectible is the Little Queen series, which was invented by Melville Bissell to help his wife with her crockery pot store. It was more of a carpet sweeper, but still a favorite vintage vacuum.
Hoover 800
As mentioned above, James Spangler is credited for the invention of the electric vacuum and he eventually became partners with Hoover. This Hoover model is a popular vintage vacuum collectible today as well as the 1952 Hoover Model 82 Constellation.
Singer Deluxe
Singers sold only sewing machines in the early years. But, in the 60s they expanded their product line to include vacuum cleaners with the Singer Deluxe model becoming popular.
The Royal Lexon Standard
Royal Lexon Standard was developed in 1910, and over one million of these models were sold. This is especially outstanding at a time when only a few million homes had electricity. Because of its history, the Royal Lexon Standard model is a very sought-after vintage vacuum.
Kirby
The Kirby Company only produced one model and sold their vacuums through door-to-door sales. The company didn't exactly have a good reputation based on the behavior of its salesmen. Many people complained that the salespeople were pushy and annoying. Despite its reputation, the Kirby is a top vintage collectible.
A Fascination
It may seem unusual to some, but many collectors have a fascination with vintage vacuums. For those who do, there are clubs to join whose members have the same interests. The Vacuum Cleaners Collectors Club's members appreciate the mechanics and design aspects of collectible vacuum cleaners. This non-profit organization values the part of industrial history in which vacuum cleaners were part of the electrical pioneer movement in the United States. Members collect, restore, and preserve this fascinating aspect of industrial heritage. The club provides a space for collecting and cataloging historical materials, and information, and sharing the interest in vacuum cleaners between collectors.
As with many collectors of antiques and vintage items, searching and shopping is a large part of the journey to acquiring items. Flea markets, antique malls, and shops like the Old & New ShopOld & New Shop, are the best places to start.