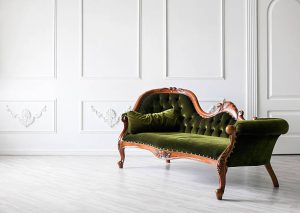 The terms antique, vintage, or retro are sometimes used interchangeably, but they do have different meanings, and these differentiations can help determine the value of the item.
The definition of antique is simple–any item that is over 100 years old. This rule applies to anything from books to glassware. If an item is over 300 years old, it can fall into one of two categories. If it's natural and from a living thing, it is called a fossil. If it's man-made, then it qualifies as an antiquity or artifact.
Vintage has a meaning that is less defined. Vintage pieces are not sold as antiques. Although determining what age counts as vintage is a bit more subjective, it usually means an item that is over 40 years old. People buy vintage items because they are nostalgic decorative pieces or collectibles.
Retro items are thought of as existing in the more recent past and are sometimes slightly used. These items are more than 20 years old, but less than 40. Retro usually imitates a certain "years ago" style, for example, a letter or varsity jacket which dates back to the 1920s, and the style regained popularity again in the 1980s.
Items that are not necessarily antiques, vintage or retro may still look old and are commonly bought as collectibles. These are referred to as reproductions. They are not sold as old themselves but as copies of older items.
The Market Value
There are several ways to estimate the value of your antique, vintage, or retro item. Visiting a local appraiser is a good option, as they have experience in this area and the tools to accurately research the piece and determine its worth. Appraisers will offer a fair price and give you a report. However, they can charge a hefty fee for their services of up to  $200 or more. The Old & New Shop will provide a more personal appraisal with a one-on-one phone call and/or meeting.
Another way to find the market value is to visit a site that will appraise your antique. Websites can give you a professional estimate by providing you with a description and photo. Additionally, consulting an antique pricing guide can give you detailed information about the value and resale of the items.
Trends in Antiques, Vintage, or Retro Items
Interest in shopping for vintage and antique items has grown over the years. Millennials are growing older, and the things they once had as children are now becoming vintage. And it's not only Millennials; Gen Z's is also looking for vintage and retro pieces. Current purchasing trends indicate interest in vintage advertising signs, books, toys, and jewelry. Other items with Art Deco and Art Nouveau styles are also popular. Whatever your preference, the Old & New Shop has a wide variety of items and collectibles for buying and selling.