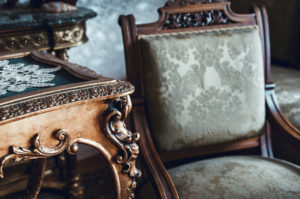 If you have an antique piece of furniture in your home, you may want to know more about it and learn how much it may be worth. There are several different criteria to consider when evaluating the authenticity of a furniture antique. Below are the top three important categories of elements that can help you learn if your antique furniture is authentic – or at least if it is worth bringing to a professional appraiser! 
Consider the Era
There are several different styles of furniture from different time periods, and each piece has its own story to tell. Furniture is usually considered antique if it is over 100 years old. Identifying the era from which your piece of furniture comes can help you determine if your piece is authentic and how much it may be worth.
Queen Anne and Chippendale styles are both from the 1700s and were popular in the early American colonies, particularly Boston and Philadelphia. They have subtle but distinct differences from one another in their shape and details. 
Eastlake furniture came later, towards the end of the Victorian period. Charles Eastlake, who wanted to move away from the ornate Victorian styles, designed furniture that was simpler and more practical. Famous manufacturers of Eastlake furniture were the Herter Brothers, though they added elaborations to the classic Eastlake style. Any piece of Eastlake furniture manufactured by the Herter brothers will be worth more than other Eastlake pieces.
Eames furniture is more modern and also quite collectible. Charles and Ray Eames–husband and wife–highly influenced modern American furniture, creating functional and affordable furniture out of plywood in simple, comfortable designs that embrace the clean mid-century modern style.
Examine Its Construction
Antique furniture was made before machines, which means the edges will not be 100% perfectly straight. If you check inside the drawers of your furniture piece, you may notice irregular dovetail joints. In addition, multiple types of wood were often used in antique pieces, as artisans would not use expensive wood in areas that weren't seen, such as the bottom of chairs.   
Evaluate Its Condition
Antiques are old and they look it. They often have uneven coloring as well as black marks indicating water damage. Nicks and scratches can also indicate a piece is a true antique, although anyone can nick or scratch a piece of furniture to make it seem old, so be careful with that criteria. Drawer runners will usually be worn from so many years of use, and hardware pieces will frequently not be completely identical. Check the insides of drawers or the underside of your piece for any labels or markings that can provide clues as to when and where the piece was made.
A Professional Can Help Figure Out If Your Antique Furniture is Authentic
At the end of the day, a professional is probably the best person to tell you if your furniture is a true antique piece or a reproduction. At Old & New Shop, our professionals can help you determine the true history and worth of your piece of furniture.