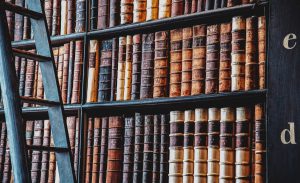 Collecting rare and antique books is a very fulfilling hobby that has been practiced for centuries. The stories contained in old books and the stories of their creation and previous owners, inspire the imagination and are a great source of fascination for many people. Unfortunately, rare book collecting is a pastime that can feel inaccessible to many beginners because of the necessary knowledge and perceived costs associated with becoming a collector. Thankfully, our experts at the Old & New Shop have compiled a guide to help novice book collectors start their own collecting journeys. 
Book Collecting Basics 
The first step in every rare and antique book-collecting journey is understanding the books you are setting out to collect. There are three terms that every book collector needs to understand:
1. Antiquarian books
In general, books published in the 19th century or earlier are considered "antiquarian." Unlike some other varieties of antiques, age is not necessarily a main determinant of a book's value, so many 18th-century books are actually fairly inexpensive relative to their age.
2. Rare books
A rare book is a book that is both in low supply and heavily sought after by collectors. Age and rarity are not directly correlated. The rarity of a book is what drives its monetary value not the age of a book. Some books published in 1920 are more valuable and expensive than other books published in the 1700s.
3. First edition books
First edition books are heavily sought after by collectors but not all books claimed to be "first edition" are of equal value. The first American edition of Huckleberry Finn published in 1885, can be accurately characterized as a "first edition" but so could a much newer copy of the book. A copy of Huckleberry Finn from the 1950s that first utilized illustrations by a famous artist, could also claim to be a first edition. However, the 1885 version of the book is much more sought after and therefore, tens of thousands of dollars more valuable than the version with the illustrations. 
Building Your Collection
When most people first start book collecting, oftentimes they start grabbing interesting volumes of books, haphazardly, or they simply seek the most valuable books they can get their hands on as an investment. However, veteran rare and antique book collectors warn against these approaches.  The experts recommend picking a theme for your collection that matters to you. Book collecting is more fulfilling when you are collecting books with a common theme that resonates with you. 
There are many themes available for you to choose from for your collection, which are as diverse as the books themselves. For instance, you can choose your favorite historical figure and collect as many first-edition biographies about them as you can. Abraham Lincoln has had around 15,000 books written about him which is more than enough to keep any collector busy for life. Alternatively, you can choose a favorite book and try and collect every edition that has been printed. Other possible book collection themes include specific authors, signed copies, geographical regions, the historical era of publication, children's books, thematic story elements, fine leatherbound editions, nineteenth-century bindings, every conceivable book subject area, and more. The important thing is to choose a theme you can be passionate about! 
Finding and Determining The Value of Rare and Antique Books
It is possible to find rare and antique books in all of the places you would expect to find other kinds of antiques, including tag sales, and the homes of elderly relatives. However, it is best to seek out rare books from reputable sources like established book dealers, auction houses, and book-collecting membership groups like The Antiquarian Booksellers Association of America (ABAA). If you are considering purchasing a rare or antique book, you need to assess its rarity to determine its value. Rarity is determined by the book's edition, condition, completeness, and scarcity.
Certain editions of books are more difficult to find and/or more sought after than other editions. First editions are more valuable than other editions, but as mentioned above, not all first editions are created equal. The better the condition of an old book, the more rare and, therefore, valuable the book. Similarly, complete books that still include their dust jackets and other accessories, are more valuable than copies that no are longer accompanied by their accessories. Books that are scarce and hard to find on the market, are also more expensive than books that are easy to find. Books that have all of these qualities are rare and, therefore, more in demand and valuable. Additionally, the history of the individual copy of a book, known as provenance can also increase its value if the copy is signed or previously owned by the author or another notable person.
In rare and antique book collecting, you get what you pay for. Books that are in less pristine condition or lack any of their accessories, will be less valuable, but less expensive and easier to procure. It is up to each individual collector to set their own collection boundaries. 
Old & New Shop
If you are looking to appraise or sell any of your antique books (or other antiques) please contact the Old & New Shop so that we can assist you on your antiquing journey.