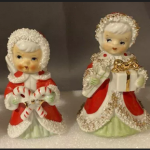 It's that time of the year to go up to the attic and pull out your Christmas tree (if you have an artificial one) and decorations. Some of those older decorations passed down from family members, may be valuable. Over time, vintage Christmas items can become collectibles. So, before you throw out that old plastic Santa or ceramic gingerbread house, check if they have any monetary worth.
Top Valuable Vintage Decorations
You may not have any of these coveted Christmas pieces, but knowing the value of some vintage collectibles may inspire you to go back into Grandma's attic.

1900s Vintage St. Nick.

The most valuable Christmas decoration collectible currently

sells for almost $8,000

. This candy container Santa stands two feet tall and has a lavender mohair coat and a beard made of real lamb's wool. It has unusual facial features that are almost scary.

57-Inch Santa

. This Victorian-style Santa wears a long coat made of wood and acrylic and carries a lit Christmas tree. It's value is $6,250.

Empire Blow Mold Wreath

. This molded wreath measures 21 inches across and created by the Empire company in the 1990s. It's value is $4,750.

Snow Angels

. This set of four vintage ceramic Christmas angels have round, red chubby cheeks typical of the 1950s or 60s Christmas decoration style. Their coats and wings are trimmed with textured snow. This set of angels is has a value of  almost $4,700.

Pink Evergleam Aluminum Christmas Tree

. Yes, a pink Christmas tree! Aluminum trees were popular in the 1960s and came in a variety of colors. This particular tree is six feet tall and has glittering branches. It's value is about $4,550.
While these collectables are rare finds, some are much more attainable and can be found more commonly at flea markets and garage sales. Many decorations from Department 56 have become vintage. Department 56 has been making decorations and collectables for years. Some of them are licensed, such as Dr. Seuss' the Grinch figurines, and others are retired, making them valuable. 

On the lower end of the Christmas vintage decoration spectrum, but not any less popular, are the ceramic lighted trees, plastic lawn nativity sets, and village houses. A vintage simple wooden hand painted Nutcracker, for example, can sell for several hundred dollars.
Real Vintage Christmas Collectibles?
If you are looking for real vintage collectibles – beware! Many pieces are sold or made to look vintage, but are just reproductions. Many of these vintage Christmas items are sold on the internet, but there a few things you could look for and actions you can take to check an item's authenticity:
Make sure unopened items are in their original boxes.

Do research. Certain materials were not available in some decades. For example,

metal ornament caps were replaced with paper during world war II,

specifically between 1942 and 1944.

Shop at a reputable dealer. Antique dealers, such as

The Old & New Shop,

will verify an item's authenticity and give you the best offer for your vintage Christmas ornament or decorations. 

If the vintage item sounds like a really great deal, it probably is too good to be true.

Ask for a certificate of authenticity for larger valued collectables.
We wish happy holidays and successful vintage shopping to all from The Old & New Shop!
Sources: https://www.workandmoney.com/s/valuable-vintage-christmas-decorations-25542494e38b4c06
https://en.wikipedia.org/wiki/The_Grinch_(film)