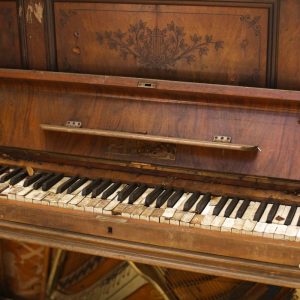 Antiques bring joy into the lives of their owners every day, but it is also the responsibility of antique owners to properly preserve their collections. Antiques are more than just old objects, they are also often valuable collector's items and even significant cultural artifacts. It is crucial financially and morally for collectors to preserve their antiques so they will still be around for future generations. Unfortunately, because antiques are by definition very old, taking good care of them presents antique owners with unique challenges. Thankfully, the experts at the Old & New Shop, have compiled this guide to help you with the goal of preserving your antiques. 
Challenges To Preserving Your Antiques
Antiques face different threats depending on their material composition, age, and storage conditions. However, there are some potential environmental threats that can risk the health of your antiques. In order to preserve the good health of your antiques, here are the factors to help you gauge the preservation and longevity of keeping your antiques safe: light, temperature, humidity, pests, human contact, chemical pollution, and incompatible material composition.
1. Light
Exposing antiques to excessive amounts of light speeds up their deterioration. It is especially important to protect antique photographs, textiles, paper artifacts, and furniture from direct sunlight and fluorescent light. 
2. Temperature
Antiques can be harmed by heat, cold, and temperature fluctuation particularly if they are made of rubber, wood, or metal. It is essential to store antiques in temperature-controlled environments. 
3. Humidity
 It is important to store antiques at a consistent humidity of 45 to 55 percent. High-humidity levels will promote the development of mold, pests, and rust while low-humidity environments can cause objects to lose moisture and become brittle. 
4. Pests
Historic materials attract many different types of pests that can threaten your antiques.  It's important to inspect them for threatening organisms regularly. For instance, paper antiques (like books) attract silverfish, wool antiques attract moths, and wood antiques attract termites.
5. Human contact
Sometimes we are actually the greatest threats to our own antiques. People can damage antiques by handling them improperly. In addition, the residues, sweat, and oil on human hands can make even touching some objects without nylon gloves a threat to those antiques.  
6. Chemical pollution
Everyday chemicals can also threaten your antiques in surprising ways. For instance, attempting to clean your antique with the wrong cleaning or polishing product can cause damage (it is important to consult an expert on how best to polish/clean your antiques). Even airborne chemical pollution can harm objects made of metal and marble particularly when they are outdoor items like marble statuary and iron architectural elements.
7. Incompatible Material Composition
Some threats to your antiques were sealed on the day of their manufacture. Antiques composed of incompatible materials, such as wood and leather or wood and paint, are inherently vulnerable to deterioration and need to be monitored. It is also important to note that different types of antiques require their own specific preservation techniques geared toward what type of antiques they are and their material composition. 
When To Pursue Antique Restoration
Some antique owners move beyond simply preserving their antiques and pursue restoring or even refurbishing them. However, it is important to proceed with caution when exploring this option because a botched restoration or refurbishment job can damage your antique or decrease its value.
If you are interested in restoring your antique, the first step is to have it inspected by a licensed appraiser or restoration expert, so they can advise you on the piece's value and your restoration options. In general, any action that changes the original character, style, or tone of an antique can decrease its monetary value, but restoration can still be the right call under some circumstances. If your antique is unusable in its current condition, and you want to continue using it, then you should consider restoration. On the other hand, if the piece has significant historical, financial, or sentimental value that would be threatened by restoration, it may not be the right choice.
If you do pursue restoration, it is best done in a way that is as non-invasive and reversible as humanly possible. If your goal is to maximize the value of your antique, rather than just conserving its functionality and aesthetics, it is best to pay a professional to perform any restoration. 
Appraise Your Antiques with the Old & New Shop
If you are looking to appraise and/or sell any of your antiques please contact the Old & New Shop for help so that our experts can assist you.