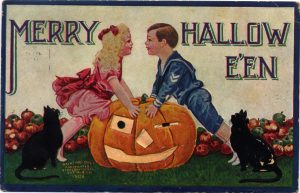 If the goal of antiquing is to own a window into the past, old postcards might be considered the ultimate antique. Antique postcards offer glimpses of times and people long past, through the images and handwritten notes that grace these pieces of paper. Postcards simply offer an unparalleled window into the past that few other kinds of antique collectibles can match. Deltiology, the study and collection of postcards is, for this reason, a particularly rewarding antiquing discipline. Additionally, the variety, abundance, and relative affordability of antique postcards also make deltiology a uniquely accessible branch of antiquing. However, under the right circumstances particular postcards or postcard collections can also be very valuable. Today the experts at the Old & New Shop will tell you everything you need to know about collecting vintage and antique postcards. 
History of Postcards
The invention of the printing press allowed for the popularization of visiting cards, bill heads, and writing paper with mass-produced illustrations but postcards as we know them today did not emerge until the 1860s.
Postal reforms in the UK and the US allowed for the spread of postcards in the English-speaking world. In 1840, the UK unified the cost of domestic mail delivery to 1 penny per envelope, through the issuing of the world's first stamp "The Penny Black." At the same time, British post offices began selling letter sheets decorated with imperial British iconography, but the product was unpopular and soon discontinued. In 1861, the US passed a law allowing privately printed cards to be sent in the mail, setting the stage for the eventual popularization of postcards here. Austria-Hungary introduced the world's first postcards on October 1st, 1869. These Austro-Hungarian postcards called "Correspondenz-Karte" cost half the price of a normal letter, and were a light-brown 8.5x12cm rectangle, with room for the address on the front and a short message on the back.
In the 1880s, most postcards were printed with small sketches called vignettes on the message side, at first only in black and white. However, here in the US, many "private mailing cards" were blank on one side, so that a message could be included with the other side being reserved for the address. During the late 1800s and early 1900s, the US government enforced many restrictions on postcards, only allowing the word "postal card" to be used on government cards until 1901 and not allowing addresses and messages to share the same side of a postcard until 1907. Chicago's 1893 World's Columbian Exposition brought with it, the idea of souvenir postcards in the US, when Charles Goldsmith produced a wildly popular series of color postcards depicting the pavilions.
By 1901, many postcards were being sent from various locales throughout the US, without even including messages. The practice of sending postcards without messages declined after 1907 when Congress legalized addresses and messages sharing the same side of a postcard. The change ushered in the Golden Age of Postcards between 1907 and 1915. Over 700 million postcards were mailed within the US in 1908, and that number reached 900 million by 1913. The popularity of postcards in the US and UK declined by WW1, leading American publishers to embrace cost-cutting measures, like white borders (1915), linen material (1930), and photochrom material (1945). Today these evolutions can help collectors determine the era from which their postcards originate. 
Vintage and Antique Postcard Collecting Tips
Consider focusing your postcard collection around a specific theme, like your home state, a favorite animal species, US National Parks, European cities, early 20th-century celebrities, natural disasters, or another topic that connects with you. 

The value of antique and vintage postcards is affected by many factors but demand, condition, and rarity often have the greatest influence on the monetary value of a postcard. Older postcards, more sought after by collectors, rarer, and in good condition are more valuable than postcards that do not fit these qualities.

Topographical cards

, postcards that feature a specific geographic location, can be split into two categories: photographic

postcards

and

illustrated postcards

. Postcards with actual photography tend to be rarer than photo cards with drawings, so they are on average, more valuable. 

However, topographical postcards as a group, are on average, more valuable than

subject cards

or

topicals,

which are postcards featuring a wide range of topics like celebrities, major events, children, comics, shipping, novelty, railways, glamour, and more. Subject cards are typically less sought after by collectors than topographical postcards, leaving them with a lower value. If you want to determine the value of a topical postcard the popularity of the specific artist who created the image on that card is much more important than with topographical postcards. The condition of topicals has a larger impact on value than with topographical postcards because the community of collectors is smaller.

Postcards written and signed by significant historical figures or celebrities can, of course, be very valuable.

All postcards can have aesthetic and sentimental value, but most postcards produced later than the 1960s currently have little monetary value. 

You can determine the age of a postcard by looking back at any dates written on the postcards, the postage, the materials a card is made of, the location and subject manner of any images, and numerous other factors. However, it is always best to get your postcards professionally appraised to determine their age and monetary value, especially if you are considering selling a postcard or purchasing a postcard for a large amount of money. 

You can find vintage and antique postcards in many locations, including the usual places where you can typically find antiques, like antique shops, tag sales, thrift stores, and the attics of elderly relatives. However, you can also find antique and vintage postcards at shows, online stores, and club meetings dedicated to old postcards. 
Old & New Shop
If you want your antique postcard collection (or any other antiques) appraised, call the Old & New Shop today!