Antique art is an excellent way to add character and elegance to any space. Whether you're an experienced collector or just starting, shopping for antique art can be enjoyable and rewarding, however, it can also be intimidating.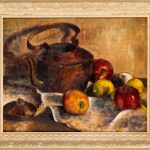 Before You Shop
Before you walk out your door, consider these recommendations. Here are some tips to guide you buy antique art:
Before you start buying, do your research. Learn as much as you can about the style of art you're interested in, as well as the period and the artists associated with it. Read books, attend exhibitions and shows and visit museums. This will give you a good understanding of what you're looking for and what to expect in terms of price.
Buy from reputable dealers
When buying antique art, it's essential to buy from reputable dealers. Look for dealers who have been in business for a long time and have a good reputation. They should be knowledgeable about the art they're selling and be able to provide you with information about its history, provenance and authenticity. The Old & New Shop is an experienced dealer that will always provide you with a fair market value.
Antique art can be delicate, so it's essential to check its condition before you buy. Look for any signs of damage, such as cracks, chips or fading. Make sure the art is in good condition, and if it needs restoration, factor that into the price.
Provenance is the history of ownership of a work of art. It's important to ask for provenance when buying antique art to ensure that it's authentic. A good dealer should be able to provide you with documentation that shows the artwork's provenance, including previous owners, exhibitions and sales.
Authenticity is a critical factor when buying antique art. There are many forgeries and reproductions on the market, so it's essential to do your due diligence. Look for tell-tale signs of authenticity, such as the artist's signature, the style of the artwork, and any documentation that accompanies it. Here are some other ways to determine the art's authenticity:
inspect oil painting surfaces. Texture indicates authenticity while flat surfaces indicate fake.

perfect edges indicate that the paintings may be fake.

check the back of any painting to see any sign of aging. 

check the mounting method of the painting. An authentic old painting should have nails or empty nail holes around the frame not staples.
If you're unsure about the authenticity of the art, consult with an expert.
Antique art can be expensive, so it's important to know your budget before you start buying. Determine how much you're willing to spend and stick to it. Remember that the price of antique art can vary widely, depending on the artist, the period, the condition and other factors.
Ultimately, buying antique art is about acquiring pieces that you love and that will bring you joy. Don't just buy something because it's valuable or because someone else thinks it's beautiful. Choose pieces that reflect your personality and taste, and that you'll enjoy for years to come.
If you find a piece of antique art that you love, but it needs restoration, consider the cost of restoration when determining your budget. Restoration can be expensive, but it can also be worth it if you're passionate about the art and want to preserve it for future generations.
Shopping for Antique Art
Buying antique art can be fun, but it's essential to do your research and buy from reputable dealers like the Old & New Shop. Check the condition of the artwork, ask for provenance, and determine authenticity. Know your budget, and buy what you love. With these tips in mind, you can build a beautiful collection of antique art that will last for generations.