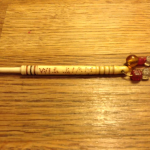 This is a story about robbery, murder and execution. It's also a story of William Worsley of Bedfordshire, England in the 1860s. Additionally, it's the story behind a very unusual collectible–a bobbin that recently sold for over $300. This unique collectible commemorated the public hanging in 1868 of  William Worsley.
The story starts with William Worley, who was born in 1820, married a woman named Susannah, and had a son, Charles. In his youth, Worsley became an apprentice to a hat blocker – a skilled person who made molds for hat construction. Eventually, he had his own hat-blocking business. 
Life in rural England was tough for Worsley. Like most men in his time, Worsley spent time at his local pub. One fateful evening in the pub, Worsley and two of his friends, Levi Welch and James Day didn't have the money to pay for their drinks. The men decided to rob another man, William Bradbury. Worsley, Welch, and Day attacked Bradbury with an iron bar, killing him and taking his money. 
Welch blamed it all on Worsley, but was sent to prison for six years on robbery charges only. Day claimed he was only there coincidentally because he dropped a sixpence and was looking for it. He was acquitted. Worsley, however, was not as fortunate and was charged with murder.
The Trial
The murder trial of William Worsley was covered by the Bedfordshire Mercury in March of 1868. As reported by the Bedfordshire Mercury, the trial was a popular preoccupation for the people of the town. Unruly crowds of spectators tried to get admission to the trial, but were turned away. Worsley pleaded not guilty to the murder charges. During the court proceedings, the prosecution showed that the murder weapon was discovered in his house the next day. Additionally, witnesses said that they saw Worsley standing over a man lying on the street. Worsley claimed that he just happened to stumble upon a drunken man. 
In the end, Worsley was found guilty by the jury and sentenced to death. He was the last known person to be put to death by public hanging. Shortly after the verdict, Worsley wrote a statement confessing to the murder.
William Worsley's Hanging
Thousands of men, women and children gathered to watch the hanging of William Worsley on March 31st, 1868. Public hangings in the 1800's were a community event and people would come to watch, wait, and pass the time by knitting or playing dice. A number of townspeople would go to sell their wares, for example, copies of Worsely's  "Last Dying Speech and Confession." Others came to sell souvenirs of the spectacle. One of these souvenirs was a bobbin used in the production of lace. During this time period, lace making was a cottage industry that used animal bone and soft woods to make bobbins. This keepsake bobbin sold at the hanging was inscribed with the words "William Worsley Hung 1868." 
The Collectible Bobbin
Bobbins made of small bone and decorated with glass bead spangles are not too difficult to find. Some are decorated with family names or symbols such as hearts or diamonds, however, there aren't many that commemorate a public hanging, like those sold on that day in March of 1868. Today, this rare item and others like this have become valuable and sought after by collectors and dealers.
The Story Behind the Collectible
The story behind the lace bobbin collectible is a unique one to say the least. Not all collectibles have such fascinating origins, but some do have their own stories, however simple, to share. One place to find interesting and unique collectibles is at the Old & New Shop. You never know what fascinating items you may find and what histories they have!
Antique Macabre Folk Art – a tale of robbery, murder, Blame & The Death Penalty. Source Vintage. (n.d.). Retrieved December 29, 2022, from https://source-vintage.co.uk/blogs/news/antique-macabre-folk-art-a-tale-of-robbery-murder-blame-the-death-penalty
William Worsley (born 1820 in Bedfordshire) living in Luton, Bedfordshire in 1881. Trace your Family Tree Online. (n.d.). Retrieved December 29, 2022, from https://www.findmypast.com/1881-census/william-worsley-0007676605
Bedfordshire County Council, County Hall, Cauldwell Street, Bedford, MK42 9AP, 01234 363 222, feedback@bedscc.gov.uk. (2019, June 21). The opening of the trial of William Worsley. Hosted By Bedford Borough Council: The Opening of the Trial of William Worsley. Retrieved December 29, 2022, from https://bedsarchives.bedford.gov.uk/CommunityHistories/Luton/LutonIntroduction/TheOpeningOfTheTrialOfWilliamWorsley.aspx