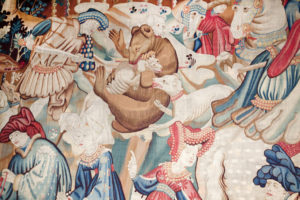 Tapestries are beautiful pieces of art that often tell a story, but they don't always fit within the modern decor of today's homes. If you have inherited an old tapestry, you may be wondering if it has any value. Selling your inherited tapestry could be lucrative for you if it is authentic. But how do you know if your tapestry is actually worth anything? You'll have to do some detective work and, like for a true detective, a magnifying glass will prove to be useful in looking for clues about the authenticity of your tapestry. Below are a few clues that can help you piece together a more complete story about the value of your antique tapestry.
1. Uneven Stitching
Using your magnifying glass, examine the stitching in your tapestry. A skillfully crafted tapestry will have stitches that are neat and close together, but the human hand still adds variety to even the most expert stitching. Uneven stitches are a helpful clue in how that tapestry was made. Machine-made tapestries have perfectly even stitches with no or little variety. Antique, hand-made tapestries have slight irregularities in the size of the stitches and they use yarn processed using an older method that causes inconsistencies in the threads. These irregularities will add to the authenticity and value of your antique tapestry.
2. Types of Thread Used
Looking closely at the actual threads used, you can learn a lot about the type of person who may have originally owned this tapestry and how long ago they lived. Modern tapestries will be made of nylon or polyester, but true antiques dating back as far as the 15th century will use cotton, linen, or wool threads that were hand-dyed. If the original owner was upper-class or royalty, the tapestry might have been made of silk with silver or gold threads woven in.
3. Range of Colors
Hundreds of years ago, people didn't have access to the vast array of color dyes that we have today. Back then, dyes were made of natural materials and only came in about 20 different varieties. Not only were the color choices smaller, but the same color used in a tapestry would not always match perfectly with itself due to natural unevenness that occurred in the dying process. Additionally, check to see if the hues are just as rich on both sides of the tapestry. If the tapestry has a clear front and back, it is likely made on a modern machine.
4. Location of the Signature
Artists of older tapestries would often incorporate their signature into the weave on either the bottom corner or the border of the tapestry. More modern tapestries have a tag on the back with the artist's information, which is a clear giveaway that you are not dealing with an antique. You want a signature or initials in the weave that you can see from both sides of the tapestry.
5. The Story in the Design
Another big clue that can tell you valuable information about your tapestry is the kind of story being told in the design. Antique tapestries often told stories about the time period in which they were created. Tapestries from churches often depict a saint or biblical figures, whereas old tapestries that hung in palaces may show scenes of royalty or important battles. Modern-day tapestries can also use similar designs, so it's important to make sure your tapestry has the other features of an antique as described above.
Although you can analyze all the above elements on your own, a professional like the ones at Old and New Shop will be able to expertly analyze all these elements to help determine the value of your antique tapestry. At Old and New Shop, not only will we help you learn more about your tapestry's history and how much it is worth, but we will offer you the best price for it. Be sure to contact us to learn more about how we can help you learn the true value of your tapestry.