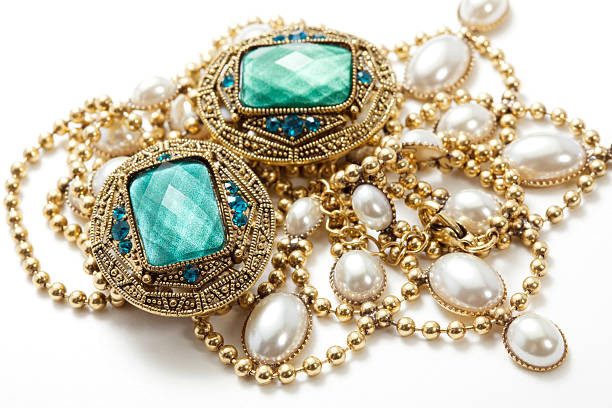 Throughout centuries, jewelry styles have come and gone. Designers found their inspiration in nature, architecture, art, and culture. Some creations were handmade and delicate while others were whimsical with various looks, gemstones, and materials. But, whatever the time period, 30 years or 100 years ago, antique and vintage jewelry has always been in style!
Vintage or Antique?
If you are buying or selling jewelry, it's good to know what is considered antique or vintage. Jewelry is considered vintage if it's at least twenty to thirty years old. Antique jewelry is one hundred years old or more, meaning it was created before the 1910s.
Pre-Victorian Jewelry 
Almost all jewelry manufactured before the beginning of the Victorian era was crafted by hand and made from yellow gold and silver. However, due to the quick development of technology in this era, machines were able to cut, stamp, and electroplate gold onto base metals allowing for the mass production of jewelry. The lower cost of production made gold and other materials to be produced in 14K, 10K, and 9K yellow gold affordable for practically everyone. Victorian jewelry featured elaborate cameos made of shell and stone, Renaissance-style lockets, hearts, flowers, and jewelry with animal themes set in pearls.
Art Nouveau Jewelry 1890 – 1915
The "new art" or Art Nouveau movement was created in the late nineteenth century as a result of the reflection of the innovations of the period. Art Nouveau had a significant impact and served as the inspiration for certain jewelry trends. The natural environment served as the primary source of inspiration for Art Nouveau designs, which included jewelry pieces depicting animals, insects, flowers, and women with flowing hair and graceful curves. Romanticized images were designed in contrast to stark images of jewelry from other periods. Different materials and methods were used such as enameling and molded glass. Precious stones like agate, moonstones, opals, sapphires, garnet, and aquamarine were the choices for pieces of this period.
Edwardian Period Jewelry 1900 – 1920
King Edward VII (Queen Victoria's son), ascended to the British throne in 1901 and gave rise to the Edwardian era. During his reign, society attained its highest level of sophistication. This era was inspired by delicate images and light. Bows, ribbons, bow knots, lace, and flowers were often the themes for jewelry and fashion. The influences of Roman, Ancient Greek, Napoleonic, and French Baroque may all be seen in Edwardian jewelry designs. Diamonds were highlighted in Edwardian jewelry. Advances in metal manufacturing during this time began the use of platinum in jewelry making.
Art Deco Jewelry 1915 – 1935
"Art Deco." style first started in Paris in 1925. This was the first place the fashion was seen. Lines were straight and angled or they curled gradually unlike the Art Nouveau era. Art Deco styles were basically represented as geometric shapes and symmetrical. The jewelry of this period was influenced by several factors such as the industrial revolution, Cubism, and the devastation of World War I.
Retro Jewelry 1935 – 1950
The Retro era, often referred to as the Retro Modern, followed the end of World War II. Unexpectedly, jewelry styles were large, bright, and extravagant given the devastation at the end of the war and the economic slump. Retro-style jewelry was Hollywood glitzy. Designs combined futuristic images with pieces drawn from earlier eras, however, unlike Art Deco, Retro jewelry has softer curves and more feminine themes. 
Antique and Vintage Jewelry is Always in Style
Jewelry designs have always been a reflection of our history culture and art. Many pieces' styles have been handed down through the decades. Antique shops and collectors like the Old & New Shop will buy and sell authentic pieces. Whatever the period, antique or vintage, collectors have always favored jewelry no matter what their style!